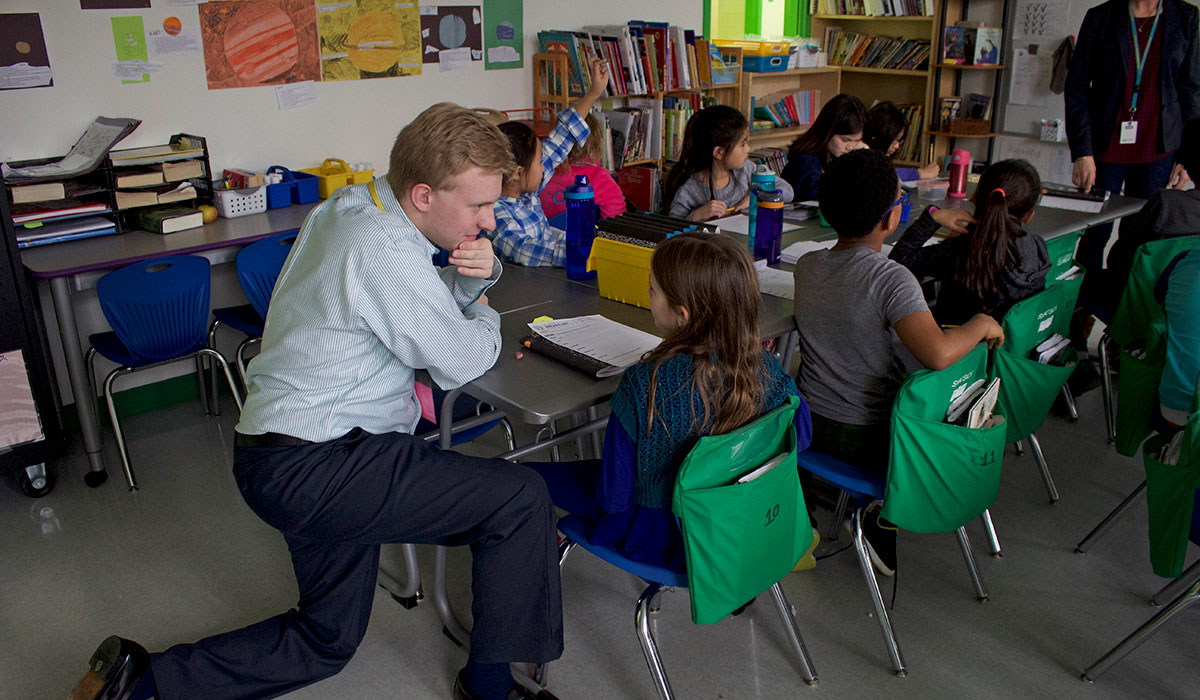 General Program Information
Candidates who wish to teach children in classrooms that are largely self-contained (Grades 1st-6th) should major in elementary education. This area of specialization combines the required general and professional coursework with exposure to a variety of educational settings, different professionals in the field, and a wide range of children at the elementary school level. Candidates engage in field experiences that include observations, site-visits, tutoring opportunities two practica, and a full-time student teaching experience. These field experiences are structured so that candidates have opportunities to apply what they learn in class to real teaching situations.  (For more information on this see Field Experience tab).
Using Catholic University's conceptual framework, this concentration emphasizes the development of a reflective stance towards teaching in elementary settings. The ability to reflect independently on teaching practice and educational contexts is essential at this level. Elementary school teachers typically spend the workday in one room with the same group of students. They are constantly engaged in student interactions, problem solving, and decision making with limited support available from other professionals or resources.  These circumstances could result in isolated, routine, and haphazard behavior. Catholic University's goal is to prepare dynamic, creative, and stimulating individuals who can overcome the institutional and occupational constraints that elementary school teachers face and who are willing and able to collaborate with other professionals in order to satisfy the educational needs of every student under their care.
Concentration in elementary education offers a combination of a strong liberal arts education, research and field-based professional preparation, an emphasis on computer literacy and technological awareness, and a commitment to serving children with special needs in multi-cultural classrooms.
Elementary candidates' program of studies includes Catholic University's general education requirements, professional education courses required by the certifying authorities in most states, and a teaching specialization. General education requirements fall under three cognate areas: social sciences, math/natural sciences, and humanities/literature. Catholic University has additional general education requirements in philosophy, religion, and foreign languages. This program generally takes candidates eight semesters to complete. Recommended courses for elementary candidates' distribution requirements are included under the tab entitled Program of Studies.
Elementary candidates have the opportunity to take the two additional courses early childhood education majors take if they are interested in obtaining an early childhood education license in D.C. also as long as they plan out their four-year plan with their advisor.
For additional information, contact Agnes Cave, Ph.D.: cave@cua.edu

Recommended Program of Studies - Undergraduate Elementary Education Program
FALL
SPRING
SUMMER
FIRST YEAR
LANG 103
LANG 104
 
PHIL 201
PHIL 202
 
U.S. HISTORY
PHYS 240 (spring only)
 
TRS 201 or ENG 101 or 105
TRS 201 or ENG 101 or 105
 
LIT or MATH 168 or 187
LIT or MATH 168 or 187
 
EDUC 101 (1CR.) - optional
 EDUC 101 (1CR.) - optional
 
SECOND YEAR
TRS 357A (fall only)
MATH 187/168
     (remaining course not taken before)
HIST (non-U.S.)
PHIL (area I/II)*
     (choose one)
PHIL (area II/I)*
     (remaining area not taken before)
 
EDUC 251/261/271 
     (1,2 or 3 courses)
EDUC 251/261/271 
     (

remaining

 courses not taken in fall)
 
CHEM 125/126/202
     (choose one)
ANTH 101/SOC 101
     (choose one)
 
ENG 326
 
 
THIRD YEAR
MUS 460 (fall only)
TRS
 
EDUC 381 (fall or spring)
EDUC 320 (spring only)
 
EDUC 311 (fall only)
EDUC 321 (spring only)
 
EDUC 312 (fall only)
EDUC 323 (spring only)
 
EDUC 313 (fall only)
EDUC 324 (spring only)
 
EDUC 301 (fall only) 
     (1-credit practicum)
EDUC 302 (spring only)
     (1-credit practicum)
 
FOURTH YEAR
EDUC 411,412,413
     (12-cr Student Teaching)
     (register for all courses)
TRS
 

EDUC 400
     (1-cr Reflective Teaching Tutorial)

BIO 102/103/104
     (choose one)
 
 
LIT
 
 
ECON
 
 
POL
 
 
ART or DRAMA
     (choose one)
*One course in Area I and one course in Area II for Philosophy are required.
 Candidates are required to meet with their advisor every semester to ensure they register for the appropriate courses to fulfill all program requirements on time.
Candidates have the option to over-elect (take a 6th course if their GPA is at least 3.0) or take a summer course to complete all courses on time.
The junior- and senior-level education courses need to be taken in the given sequence; however there is more flexibility in terms of scheduling the other distribution requirements (general education courses).  Please note that the sophomore classes (EDUC 251, 261 and 271) can be taken in any order.
This sequence presumes the candidate will begin studying language at the intermediate level.
Elementary candidates usually student teach in the fall.  However, the senior spring semester is an option for those who have a conflict (e.g., with competitive sport seasons).
Candidates are strongly discouraged from taking any additional courses while student teaching.
Check early when courses are offered.  Make a four-year plan through the senior year with the program advisor, especially for Fall only, Spring only, and Fall cycled courses.
Volunteer work in schools is encouraged in the first two years.
Minors
Candidates can obtain the form to declare their minor from the Dean's office (107 McMahon). Once the form is completed, candidates must meet with their minor and major advisor to plan their program of studies for a timely graduation.
Elementary Education Majors - can minor in many disciplines, such as religion, philosophy, language, music, art, biology, chemistry, drama, history and others. See the undergraduate list of minors for a complete list of minors and their requirements.
Arts & Sciences Majors - can minor in Elementary Education. In order to get a minor in Elementary Education, students must declare the minor in Elementary Education in the dean's office (107 McMahon) and take the following courses:
EDUC 251
Foundations of Education
EDUC 261
Human Growth and Development
EDUC 271 (formerly 361)
Psychology of Education
EDUC 313 (formerly 555)
     (offered only in fall)
Classroom Management for Regular and Special Needs Children
EDUC 301 (formerly 561)
     (offered only in fall)
Practicum Early Childhood/Elementary Education
EDUC 312 (formerly 570)
     (offered only in fall)
Curriculum and Instruction in Early Childhood and Elementary School
EDUC (elective)
 
 Policies on Arts & Sciences minors can be found here.
Advising
Candidates are required to meet with their advisor every semester to ensure they register for the appropriate courses to fulfill all program requirements on time.  Candidates should never take a class that does not fulfill a distribution requirement on the tracking sheet without advisor permission. Candidates should use the "click to view" function on the tracking sheet to select from courses. If a course, a candidate is interested in, is not listed, the candidates should contact his/her advisor.
The following courses have been specifically designed for elementary education majors:
ANTHROPOLOGY

ANTH 101
Introduction: Cultures in Global Society
ANTH 110
Speech & Experience: The Anthropology of Language
ANTH 270
The Information Society
ANTH 335
Latinos and Latinas in the US
ANTH 354
Landscapes & Settlements (for geography requirement)

  BIOLOGY

BIOL 102
Teaching Science at the Elementary Level
BIOL 103
General Biology I
BIOL 104
General Biology II

CHEMISTRY

CHEM 125
Chemistry in Our Lives
CHEM 126
Chemistry in Modern Times
CHEM 202
Science Under Oath

 ECONOMICS

ECON 101
Principles of Macroeconomics

  ENGLISH

ENG 205
The Literature of Fantasy

MATHEMATICS

MATH 168
Mathematics in the Modern World
MATH 187
Introduction to Mathematical Thought

 MUSIC

MUS 460
Music in the Early Childhood and Elementary Instruction

PHYSICS

PHYS 240
Sun and Earth: Concepts & Connections

THEOLOGY

TRS 357A
Jesus the Teacher: Parables, Proverbs and Metaphors


Field Experience
Candidates are expected to start visiting schools at the beginning of their program. During the freshman year, all undergraduate candidates are encouraged to take EDUC 101: Introduction to Teaching. In this course, candidates work in small groups to examine as much of a particular school functioning as possible. Observing students, interviewing faculty, and touring facilities all provide data to allow reflection and comparison among schools.
Site visits are also an important part of EDUC 251: Foundations of Education. Candidates visit different schools selected to provide exposure to an array of school settings. The purpose of these visits is to give candidates the opportunity to learn how different types of schools are organized and to observe teachers working with students in a variety of teaching situations. Candidates record their observations while touring school facilities and interacting with school professionals and students. They prepare written reflections after each site visit focusing on the identification of specific instances related to the elements of the learning environment. They use the conceptual framework (three modes of deliberation and dilemma language) to discuss schooling dilemmas they observe and the implications of teachers' decisions for practice.
In EDUC 261: Human Growth and Development, candidates continue to observe students of various ages in various settings. Based on observational data, candidates relate theory to understanding of human development in real-life settings.
Tutorial Program
Elementary candidates participate in a tutoring program when they take EDUC 271: Psychology of Education. Candidates travel to neighborhood schools to provide remedial help for students primarily in mathematics and reading. Tutors work with small groups or individual students on skills specified by the classroom teacher. Candidates complete journal entries on the basis of tutoring interactions and reflect on their ability to integrate theory learned in class into instructional practice.
Practicum
Elementary majors must demonstrate their ability to work effectively in supervised field experiences in different settings. They part in regular practicum experiences both in the fall and spring semesters of their junior year.  The goal of all these more advanced interactions is to have the candidates practice newly learned methods in a comfortable setting, use problem solving and reflective analysis of classroom situations, and actively participate in the teaching/learning process. The practicum experiences are designed to work hand-in-hand with the assignments in the associated methods courses and are scaffolded to help candidates prepare for the student teaching capstone experience.
For practicum experiences elementary education majors are placed in primary (1st-3rd) and upper elementary (4th-6th) grades and attend a weekly practicum seminar.  In the first professional semester, in EDUC 301, candidates intern for two mornings a week in the same classroom. Candidates are exposed to the daily routines of classroom life and have opportunities to develop their own classroom presence. During the second professional semester, in EDUC 302, candidates intern for one full-day and one-half day a week with their cooperating teacher. Concurrent class work in major methods courses requires that candidates plan and implement an interdisciplinary unit. Candidates must demonstrate their ability to work effectively for a total of at least 300 clock hours in supervised field experiences in at least two different settings, serving children of two different age groups and with varying abilities.